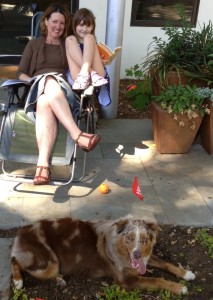 Daddy and Mommy are having a really big adventure this weekend. Mira's staying over for her pre-birthday sleepover.
I'm not sure what that means yet. But things are different than when Mira's normally here. Where's Tessa, Mira's sister? I can't find her anywhere.
Mommy and Mira tossed me the ball from their apparently comfy chair. I got real good at dropping the ball in Mommy's hand 'cuz she made it clear she wasn't chasing after me anywhere.
When I needed a panting break, Daddy snapped a photo of the three of us on his iPhone. Mommy made him take a couple. She's all about getting her picture taken at the "right angle." Not sure what that means. Arf!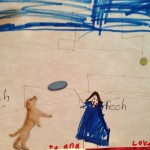 Now Mira's upstairs in "her room" doing art projects, Mommy's penning my post, Daddy's reading a book on his iPad, and I'm snoozing by the front door.
Arf. Arf. I think I like sleepovers.