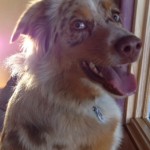 As lore has it, while Mommy worked at Stanford Law School between 1995-1998 Daddy presented at the Directors' College – some highfalutin executive education program Mommy managed. She loved her director's title she had while working there. But I'm not sure she remembered Daddy. Her former boss, Joan, has reminded her that Daddy was one of the many presenters. Anyway, a year or so later, Mommy met Daddy again when she attended a "learn to meditate" course he taught. (Wish Mommy still practiced meditation!) That day during the lunch break, the two of them munched on sandwiches on the patio away from the other meditators. I imagine they discussed all sorts of things. But what Mommy remembers from that day was that Daddy was born in Fairfield, Iowa, and like her was an Iowa State University alumni. Knowing Mommy, she was smitten. But alas, their paths parted. Arf! Arf!
Years later in 2008, their path's crossed again at an Iowa State Alumni event in Napa. According to Mommy, Daddy attended the gathering with his wife, Rebecca. Mommy came with herself. The three sat together to munch on some more food in the vineyard. It seems the three of them had a delightful time chatting it up. Mommy found out that Rebecca and Ed split their time between San Francisco and Angel Fire, New Mexico, where I get to be a ranch dog now. Daddy and Rebecca heard all about Mommy's writing while she lived on Maui, and learned that she and Daddy's paths had crossed at Stanford Law School and Siddha Yoga—that place where she used to meditate. I'm sure Mommy left the event that day thinking, "lucky Rebecca." Arf! Arf!
Then two years later (I can count! 2010!) Mommy and Daddy's stars finally aligned at another Iowa State Alumni gathering at the Garden Court Hotel in Palo Alto. It seems that when Mommy walked into the ballroom she spied Daddy talking with the dean of the engineering college. But since she was feeling shy, she decided not to interrupt the conversation and made her way to the food station. Smart Mommy. I'm sure she filled her plate with all sorts of goodies, and then she went to stand at a cocktail table. Her former dorm-floor neighbor, Monica (Segher) Hayes soon joined her. Monica and Mommy, according to Mommy, were in the midst of a lively conversation when up sauntered Daddy. This time he remembered Mommy. Arf! Arf! Oh Happy Day. A lively conversation ensued about Hospice of the Valley where Mommy was the director of marketing. Seems Daddy was curious and appreciated the work Mommy did because Rebecca had passed away from breast cancer the previous fall on hospice support.
"What's your website like," Daddy said.
"It's pretty crappy," Mommy replied embarrassed. That website was in need of a facelift. Mommy didn't like talking about it. Nor did she encourage people to visit it.
Suddenly another alumni who wanted to chat with Daddy interrupted their conversation. Mommy jumped when Monica's elbow jabbed her in her ribs. "What," she said startled.
"Give him your business card," Monica said adamantly.
"Why?"
"Because he's trying to get your number," Monica said. "Give him your card." Mommy was a little dense that night. Monica left her there to ponder her next move.
Thankfully Mommy followed directions because otherwise I wouldn't be telling this story. Mommy rummaged through her purse, found a card, and with butterflies fluttering in her stomach walked up to Daddy and interrupted the conversation and said, "Our website is printed at the bottom." I'm sure she smiled. Then she sat down next to Monica in the other room to wait for the ISU president to give his speech.
"Did you give him your card," Monica inquired.
"Yes."
"Good."
Lore has it that as people began taking their seats Daddy casually made his way through the isle between the chairs and glided over to Mommy and Monica. He nonchalantly asked, "Is this seat taken?" No, Mommy replied. Mommy told me that when she turned to Monica, Monica was smirking. Later Monica would divulge that she'd purposely sat three seats in from the isle leaving room for one person knowing Daddy would make his move and ask to sit down next to Mommy. Monica's psychic.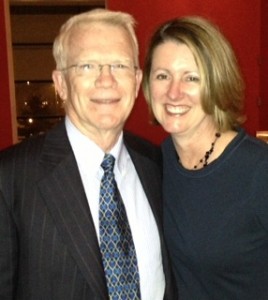 The happy ending to this story is that after the event Daddy emailed Mommy but his email landed in her spam. Mommy had a bad habit of not listening to her voice mail messages, and an even worse habit of never checking her spam mail. Thankfully something eventually occurred at work that required her to dive into her spam. There was Daddy's email sent ten days earlier. Mommy was aghast. So she ran down stairs and asked the motherly all-knowing receptionist to help her craft an email. In it she apologized for her oversight and asked Daddy out for coffee. According to Mommy, she sent the email on a Friday. Daddy finally replied on Monday. Every so often I hear Mommy ask Daddy why it took him so long to reply. Daddy always says that he didn't check his email that weekend. Mommy and I think he's telling a white lie. Daddy always checks his email. But who's to say. Daddy accepted Mommy's invitation to coffee. They met at Peet's Coffee & Tea on State Street in Los Altos. And the rest of their story is, as humans say, history. Arf! Arf!