When I was ten, my family moved to Stuttgart, Germany. My father was a university professor and our family of four lived on a tight budget leaving little money to purchase the Audi, Mercedes or Porsche my brother and I dreamed about driving someday on the Autobahn. Typically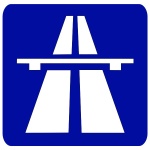 on our road trips, my brother David and I sat facing backwards in our VW station wagon to warn my dad about oncoming cars when he dared to use the passing lane. One day we spied blinking headlights off in the distance.
"Dad, you better get over," we warned. Seconds later the whites of the eyes of the Mercedes driver were glaring at us. The woman in the passenger seat looked like she was mouthing obscenities.
"Dad, MOVE OVER!" we yelled. "You have to go faster." As Dad finally pulled back into the right lane, the irate driver of the Mercedes sedan floored it. As their high-performing driving machine careened by, the woman turned and violently shook her fist at my father. Soon their Mercedes was a speck on the horizon.
Two years ago, I finally realized my 42-year old dream of driving on the Autobahn. As I floored the gas peddle of my Avis manual transmission Audi A5 and headed north out of Frankfurt, I relaxed into the left lane at 160+ km/h knowing I was finally driving with the world's best drivers.
Best drivers you might ask. If you believe the statistics on Wikipedia there were 2.2 road user fatalities per billion vehicle kilometers on German Autobahns in 2008. Using the same statistics, 4.5 fatalities have occurred in the United States on motorways. It is my belief that this statistic can be attributed to the fact that Americans are not taught to be good drivers. They are given minimal tests, taken on a spin around their town, and handed a drivers license. They are only taught driving basics. In most states no instruction is given to inform drivers that left lanes are for passing—not cruising along clogging up traffic. I have concluded that most drivers in America, and especially California, believe it's their God-given right to get on Freeways, move across traffic, and "park it" in the left lane—even if they don't plan on passing anyone. The repercussions of this are that irate drivers such as myself are left to pass poky left-lane loungers haphazardly on the right.
Since my glorious drive on the Autobahn, I find it increasingly hard to contain the exasperation I feel for left-lane loungers. But that said I have taken up the practice (on most days) of using left lane(s) for passing only; hoping and praying that I am setting an example for other drivers. Sometimes I see other drivers following suit. But when my experiment fails, I flash my lights like any skilled German driver would, and zip around the left lane lounger with a glare in their direction—all the while dreaming of my next drive on the Autobahn where there's one driving rule: He/she who drives the fastest, commandeers the left lane.