On Thursday, October 17th, I woke in Shanghai dazed and confused from jet lag. Reaching for my iPhone, I clicked on my Facebook App intending to type my first honeymoon Shanghai post. It took awhile of watching the little syncing circle spin relentlessly, and for Andre Walker's post from the 14th not to update to a New Story for me to conclude: "Something" was amiss with Facebook in Shanghai, China.
"Maybe it's God's way of telling you, you should just enjoy our honeymoon in Shanghai, and that you don't need to post about it," Ed said as his eyes lit up, and his lips curled up into one of his dashing smiles.
"Are you nuts," I snarled. "How can I not post my adventures and observations on Facebook? My Public awaits," I blubbered.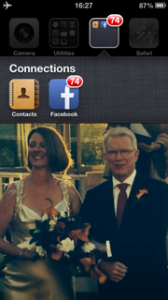 With my writing censored, an inkling of what it must be like to be a censored citizen began to take shape. The form it took didn't feel good as Facebook began sending me emails like: "It's been five days since you last logged in." Facebook, don't you think I know this, I whimpered? I miss My Public I pined watching the little number above the Facebook App climb to 74 indicating friends had posted and commented about something. Email pushes from Facebook flooded my email Inbox alerting me to the pictures from our wedding that were getting posted and commented on. I considered simply crying, or perhaps slitting my wrists. I chose a less dramatic alternative and complained to Ed instead about my predicament. I noticed he was non-plus, perhaps unsympathetic, and he even appeared emotionally stable without his daily Facebook check-in.
In the end, I concluded I mustn't let something like being blocked from Facebook dampen our honeymoon for me. It took reaching deep into my well of emotional strength and perseverance.
One afternoon as we rested in our room at the Fairmont Peace Hotel located on The Bund (the former British Concession of Shanghai), Ed remarked, "have you noticed how an initial search for "something" on Google experiences delays? But subsequent searches for relatively the same thing come instantly?" Was Big Brother watching and approving our searches we wondered? The most annoying search for me was typing in any combination of words containing the word Facebook. All variations ended with an error message. I just want to confirm what countries ban and block Facebook, I sniveled. Please not Singapore, Bali, and Hong Kong – the remaining three destinations on our honeymoon itinerary! Alas, probably Hong Kong.
In the end, how did I survive? I finally HAD TO succumb to the will of God according to Ed, but not before sending an email to Jacqui Binford-Bell, a fellow avid poster, beseeching her to post my plight on my timeline. To my fellow posters who might think me nuts while thinking you're not addicted to Facebook like me, I say Ha! Try being blocked from posting your where-about-town posts. Meet me at Facebook Anonymous Anyone?