Okay! I couldn't help myself. I had to take a distressed biking selfie.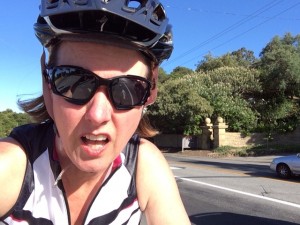 Dangerous while riding, yes! But the headwind on Foothill was dreadful and I wanted proof that I was riding in it. As I peddled at a mere 5.5 mph, I imaged the gale was so intense that if I crossed it, I'd be knocked over into oncoming traffic. No positive thinking for me.
Finishing our RAGBRAI training ride today, I would have liked to report with the throbbing pain at the base of my neck, the numbness in my left foot, and the tingling in the palms of my hands (yes, my bike needs adjusting or maybe I need more time on my bike?) that I'd ridden more than 19.5 miles when Ed and I reached our driveway. "I'll return when my Garmin hits 20," I called out to him waving. Pain like mine, required respectable mileage.
As I rode around our neighborhood, eyes darting back and forth from the street in front of me to the Garmin GPS thingy, I wondered, how am I ever going to survive RAGRAI with 36-73 mile days and 695-3,073 foot elevation gains. YES!!! Iowa has elevation gains. And in July, Ed and I, a family friend, and various members of Ed's family are spending 7 days riding across the northern part of Iowa. The beauty of the ride is that the ride planners saved the most grueling day for last. Day 7: 67.5 miles with a 3,073 foot elevation gain through what people call "The Little Switzerland of Iowa."

As I road around the neighborhood whining and whimpering to myself, I realized as a newly wed (Ed's my first marriage at 53) this must be what marriage and love is really about – accompanying my husband on his RAGBRAI dream.