When I was ten, my family moved from Los Angeles to Stuttgart, Germany. To stay connected to my friends, I started writing. The only one who wrote back consistently for over 20 years, was my best friend and next-door neighbor, Lisa. Now when we see each other she introduces me as her pen pal. Sadly, my mother threw Lisa's letters away, but Lisa saved mine. Several years ago, she lent me the large box that contains them to read. On blue sheets of airmail paper, I shared adolescent perspectives about places we traveled to in Europe. Then when I was 13, my parents moved our family to Peoria, Illinois. Suddenly my missives turned into angry and confused teenaged angst, homesickness for Germany, laments about crushes that amounted to nothing, rants about my strict parents, escapades involving driving up and down country roads with my girlfriends and boys my parents forbade me to hang around. At times I wrote Lisa daily, reeling about life, and indignant with her for not responding promptly.
"Wow, I was an angry teenager," I reported to Lisa.
"You needed to vent," Lisa said. "If you hadn't written, what would have happened to you?"
Throughout the years I have continued to write about the curveballs life has thrown me as a way to process my emotions. Writing as Lisa implied, and I've come to believe, has saved me on more than one occasion from depths of despair. It has also helped me to navigate life transitions, and has been the foundation for self-improvement. Writing has been a friend to me when no one else has been around. I have stacks of journals, and I can't throw them away. How could I possibly toss myself into the garbage? I cherish these notebooks that have prepared me for the writer I am today, and the New York Times bestselling author I dream of becoming. I've written in my career as a marketing director, a columnist, and studied in continuing education programs and classes with authors who live in the San Francisco Bay Area. Writing is a solitary endeavor, and when I decided to embark on the journey of writing full time two years ago, I enrolled in a low-residency MFA writing program, thinking it would provide me with discipline, which it did and a community of faculty and writers I could relate to, which it didn't because I chose the wrong program.
Floundering without a community of writers this year I decided to create my own personal writing program (MOPWP). That's how I met Sukey Forbes who invited me to Blog Hop. MOPWP consists of the Wednesday Writers led by author, Elizabeth Fishel in Oakland. We meet weekly for ongoing classes. What I love about our sessions together next to the camaraderie, is that the group doesn't spend time gabbing about reasons why they haven't written. Instead, whoever has written presents their writing, and the group gives marvelous and thoughtful feedback. And Sukey I met at a retreat led by New York Times bestselling author Dani Shapiro. The women Dani gathers are amazingly kind, generous, and insightful with critiques during work-shopping sessions. And this February in the two-and-a-half days we spent together, Dani and the gals helped me to figure out reasons why people weren't getting a sense of my emotions and me in my memoir. This has been a constant complaint over the years when I have work-shopped chapters of my story.
When Sukey, who was invited to participate by New York Times bestselling author Laura Munson, invited me to participate in the Blog Hop, I felt honored, then scared. These are questions I hear audiences asking authors on their book tours. Who am I to answer these questions I wondered as I was plowing through my writers block? And then I remembered the gist of something I heard an author say once: just because I'm a New York Times bestselling author, doesn't mean that I don't quake every time I sit down to stare at the blank screen in front of me when I am starting a new book. Each new book for me is like starting the business of learning the craft of writing all over again. And so I say: why not me?
What am I working on/writing?
I am a writing memoir about the adventure of searching for my birthmother, and the circumstances that led to our first-time meeting on the day she died. It is also a self-discovery story about coming to terms with emotional abandonment, and an adopted mother who vehemently opposed my search, and never forgave me for shattering her "personal myth" that I was her biological daughter.
How does my writing/work differ from others in its genre?
My husband, Ed loves to tell people that I'm a writer. He also tells new acquaintances and friends that the stories I write engage and carry the reader forward. I like to think that I accomplish this because of all the fiction craft classes I've taken when memoir classes haven't been available to me. When I'm working on my memoir, I think about it in scenes, building it out with dialog between the people who populate my story. Then I go back and add descriptors, and lastly I work on my interior dialog. Interior dialog is a challenge for me because I appreciate brevity. But I'm working on it. When a memoir can't hold my attention and I leave it laying on the nightstand beside my bed, invariably I'm abandoning it for another memoir that tells a better story. Memoir, like fiction is all about how the story is told.
Why do I write what I do? I write what I do because I am a storyteller of life's experiences. I write what I do because I am answering an inner calling that won't let me not write. And now that my adopted mother has passed away, I don't have the excuse anymore that writing my memoir might hurt her feelings. I write what I do because invariably readers tell me that they can see themselves in my stories.
How does my writing process work?
I subscribe to the idea that if I write three hand-written pages every day my day will be a better one. Hearing the sound of my blue ink Pilot G-2 scratching across the pages of my Moleskine covered art journals centers me, clears my mind. And if I don't get to my writing project(s), then I've still written something every day.
When I am beginning a new chapter or essay, I start by writing with pen and paper. Then I type my pages into my MacBook Air. This is my first step in rewriting. And then I rewrite, and rewrite, and rewrite until I feel like there's nothing else to rewrite. I LOVE the process of rewriting. What I have found is that discovery happens during rewriting. As I rewrite, the essence of my story begins to emerge.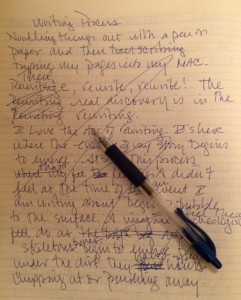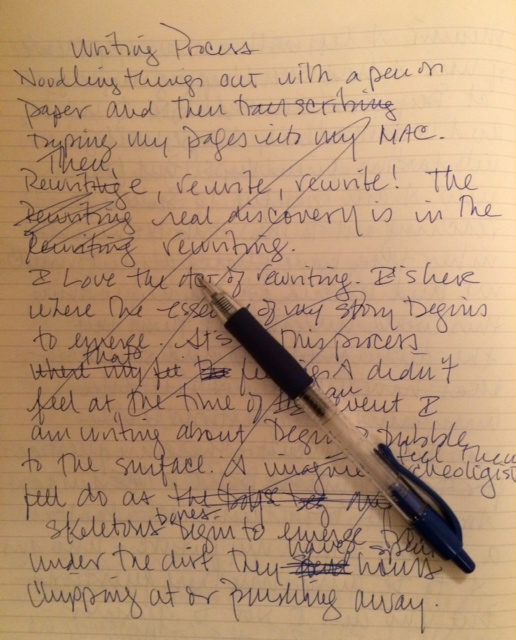 In the process of rewriting I have been able to access feelings that I couldn't relate to while I was searching for my birthmother, or during the time I stood by her bed watching her die. I imagine that the excitement I feel while rewriting is akin to how archeologists feel when bones of skeletons start to emerge from under the dirt.
Next weeks Blog Hop bios of writers who will answer the same four questions I answered are: Tracy Guzeman, Susan MacLaughlin, and Katrina Anne Willis.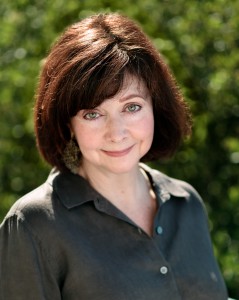 Tracy Guzeman, a Midwesterner at heart, grew up outside of Chicago, and received her degree in landscape architecture from Iowa State University. She has held various marketing positions with Silicon Valley start-ups, and for the past sixteen years has owned her own company, providing event management and consulting services across a wide range of industries. She is a Pushcart Prize nominee, and her work has been published in Vestal Review, Glimmer Train, and Gulf Coast, where her story, Einstein, received honorable mention for the Donald Barthelme Prize for Short Prose. She was a featured author for the 2014 Twitter Fiction Festival, and a Gwendolyn Brooks Poet Laureate. The Gravity of Birds is her first novel. Read her blog here.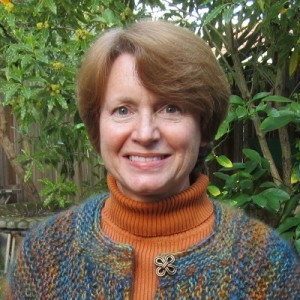 Susan MacLaughlin, MA, MBA, is a writer and avid knitter. Trained as a health educator, she credits knitting and a healthy lifestyle with helping her to regain and improve her health. Read more…
Susan and her husband live in the San Francisco Bay Area. When not knitting or traveling, she can be found most often in her kitchen or the great outdoors. Visit her blog at…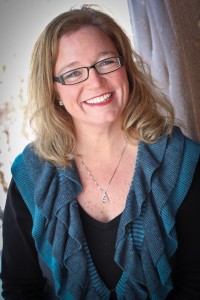 Katrina Anne Willis, a Hoosier currently living in Ohio, is happily married to her high school sweetheart and is the mother of four teens/tweens. An author and essayist, Katrina was named a 2011 Midwest Writers Fellow, was a 2011 "Notes & Words" contest finalist, participated in the 2013 Indianapolis "Listen to Your Mother" show, is a writer for "Mamalode," is syndicated on BlogHer, and is resident "Mom" blogger for Indy's Child magazine. She's the author of "Table for Six: The Extraordinary Tales of an Ordinary Family," is featured in A Band of Women's 2014 "Nothing but the Truth" anthology, and was awarded the 2014 Parenting Media Association's Gold Medal Blogger Award. When she's not reading, running (slowly), or pouring a glass of Cabernet, you can find her at www.katrinaannewillis.com,  www.facebook.com/katrinaannewillis, and @willistribe.