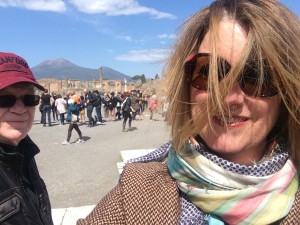 Today on the way back to Naples from Positano where I attended the Sirenland Writers Conference this past week, Ed and I stopped in Pompeii. We took a tour with a guide, who showed us, in his opinion, the most noteworthy highlights. This was Ed's first visit to the ruins of Pompeii. My second. I had visited in 1971 with my family when we toured Italy during the first summer we lived in Europe – Stuttgart, Germany.
Mt Vesuvius erupted in August 79 AD. Noxious gases suffocated residents who stayed in their Pompeii homes or returned to rescue others or their belongings. Pumice and ash buried the residents and the city for posterity. What's astounding about this time period is two letters survive written by Pliny the Younger, a lawyer, author and magistrate, describing the eruption in which his uncle Pliny the Elder died.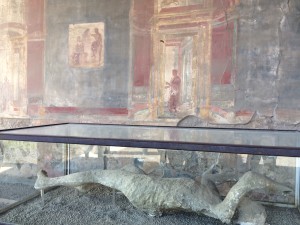 To tour the city, one walks on sidewalks or streets paved with small and large volcanic cobblestones. Our tour guide stopped to point out small white stones interspersed between the pavers—reflectors for walking at night. This was just the first of many technological things one might not assume of this time period.
In Pompeii the public baths had heated floors, running water – all supplied from water running through pipes. The unfortunate thing, the pipes, also used for drinking water, were made of lead. Need I say more. The frescos that remain were painted in such a way that 2000+ years later they have barely faded. Bricks used for buildings and cobble stones are original and I am reminded of how in paved-over-brick streets in places like Chicago, the pavement always deteriorates—the bricks remain. Streets in Pompeii were laid out on a grid—north to south, east to west. (Think New York City or Chicago) This allowed for town-folk to scatter if need be. Two-wheeled chariots drawn by horses were used for transport and the roads were designed to accommodate the width of the wheels. According to our guide, the wheel width is the same width we use today for train tracks. I forgot the measurement—four feet something or other. Stepping stones were also incorporated in the streets to allow for crossing over flowing rain water, which was collected in cisterns to water gardens. Walled villas were built around interior gardens with rooms facing out to gaze upon them. Mosaic tiles were used for decorative floors. Villas and public buildings even had sliding pocket doors.
Brothels were legal in the time of Pompeii, and directional signage was carved into pavers on streets. Look closely for a phallic symbol. Prostitution was not illegal/taboo and taxed.
The most amazing thing about Pompeii to me was the acoustics in the coliseum where plays and music events were held. Our guide stood in the center and clapped so we could hear the clear echoes of sound.
As Ed, the guide and I walked around the perimeter of Pompeii together, I tried to remember my 11-year-old self traipsing through the remains of the ancient city behind my mother who would have been enamored by Pompeii. Nothing. Only the idea that in July or August it must have been hot and humid. But what I do remember is the hazy vision of a meal after our tour at an outdoor cafe under a trellis and situated on a plaza. The faint memory of a body of water in the distance. And a store where we shopped for a cameo for me. And me messing up my dad's game of negotiation. When dad told the sales clerk, "we have to think about it, we'll come back tomorrow," I said, "but Daddy, tomorrow we'll be in Rome."