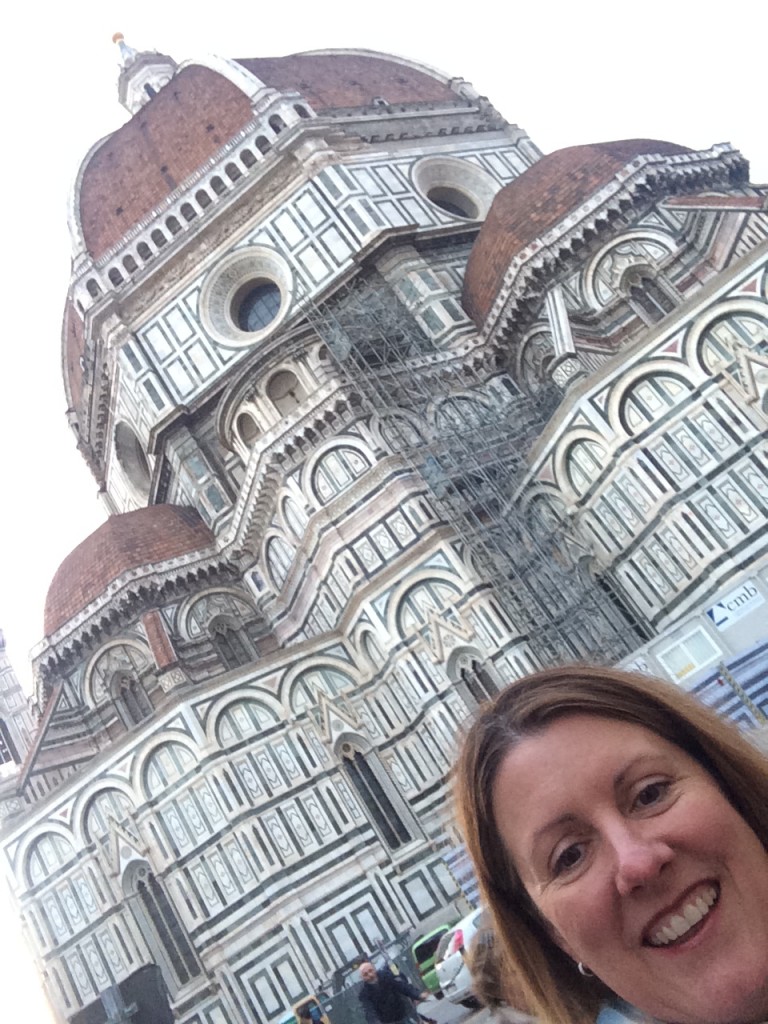 What was I thinking today when I set off with Ed to climb to the top of the Duomo? He reminded me later as we sat at a cafe after our climb that Paul, our concierge, had mentioned getting to the top was not for the faint of heart. Ed says he warned me too. I wonder why I didn't hear Paul and Ed? Perhaps it was because I wanted to see the extraordinary view—terra-cotta roofs, the hillsides, and the bridges crossing the Arno? Or maybe I wanted to remember if I had made it to the top as an 11-year-old girl in the summer of 1971.
According to Leila Firusbakht's article, How many steps are there in Florence's Duomo?, the number of stairs to the top of the Duomo is reported to be anywhere from 416 to 463. Leila suggested that "it's up to you to find out the real number." Possibly if I had focused my attention on counting steps, I wouldn't have started hyperventilating in the endless spiraling staircase. Finally that staircase ended. I followed Ed out onto a catwalk that encircles the wall holding up the dome. This catwalk was, unbeknownst to me, the first of TWO.
According to an article in National Geographic I googled afterwards, the dome is 150' wide and 180' tall. With my back pressed against the wall, I quickly considered my options. I spotted a "quiet" sign in front of me, turned and stuck my head back through the door and shussssshed the people behind me. "They're not going to be quiet," Ed said standing beside me. My torso began to sweat. I placed both hands over my nose and mouth pretending they were a paper bag and breathed in and out. In and out.
Maybe now would be a good time to divulge that I've suffered from claustrophobia and a fear of heights since I was a child. During my families' tours of Europe (1971-73) my dad took my brother up in the ferris wheel in Vienna and up the Eiffel Tower while my mom waited with me. Last October when Ed and I were in Munich, I tried to climb up the tower of St. Peterskirche. Same way up as down there, I stopped and waited for Ed on a landing with ample space and room to breath.
Out on the catwalk, I had one option—move forward fast enough to keep the obsess-ant chatters at bay. As I started to walk, I noticed large hooks extending from the wall to my left. Sliding my right hand along the wooden railing smoothed by hands of time, I made my way methodically forward grabbing for each hook as I went. I'm glad now that I did not know then that I had approximately 70' to walk to the next doorway. For one brief bold millisecond, I glanced down at the black and white patterned nave below. Eventually the crowd and Ed disappeared through a door to the left. Ed was waiting. Panting I pleaded, "Make them stop talking."
Up more stairs. Another narrow hallway. An arrow to the left indicating up—again. An arrow to the right—EXIT.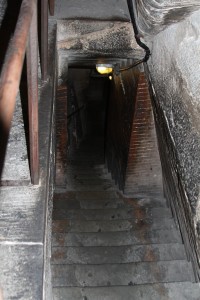 For one nano second I considered the spectacular view from the top of the dome. Frantic, I turned right, and there in front of me—Catwalk #2. A guard on a cell phone stood in the doorway and pointed to the left. If I didn't move, I'd clog the doorway. The guard stepped aside and let me slide in to the right to stand in between him and his buddy who sat on a stool. I clung to the metal framing that held up plexiglass behind me, and what Ed later told me was also plexiglass in front of me. I have no memory of anything except being surrounded by the melodic voices of the two guards speaking Italian.
In Firusbakht's article I mentioned earlier, she regales the reader that "the stunning frescos begun by Giorgio Vasari in 1572 and completed by Federico Zuccari, clearly inspired by Michelangelo's Sistine Chapel are right there, just a few meters over your head! Watch and note all the figures, every detail, the colours…"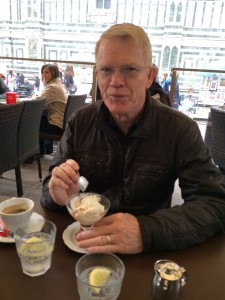 What colors? Later in the square outside the Duomo while I sipped my macchiato still shaking and Ed ate a gelato, he showed me his iPhone pictures. He pointed to images on the fresco depicting heaven and hell. If I had only been able to look up.
Now I wonder, did my mother miss the the expansive view of Florence and the magnificent frescoed dome? Had the shorter, skinnier version of myself in 1971 been able to make it up the 416-463 steps that day? I have a faint memory of climbing up a narrow stone stairwell winding it's way up. But was it the Duomo? Oh how I wish I could remember that day.