Monthly Archives:
June 2015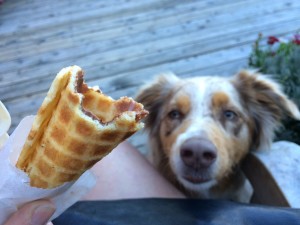 This morning I was scrolling through my Avy Tales reminiscing about my life. I like to do that from time to time, because I'm proud of my prolific-ness, something Mommy likes to brag about. She adores my spry sense of humor and thinks I would have made the perfect cover photo for the Animal Minds National Geographic issue in the 2007. Alas! I wasn't born yet. As I read my tales, I was dismayed to realize I hadn't blogged since December of last year. I blame this on a lot going on. (Note: we writers like to blame not writing on things like chasing ground squirrels into their holes or waiting for Mommy to share her ice cream cone.) Things going on: Mommy and Daddy moved me to a condo in San Francisco last December. And then Mommy's daddy got sick, and died in May. Mommy blogged about that, but what she hasn't blogged about is how our move to San Francisco has affected her and me. (more…)
Posted in
Avy Tales
Tagged

Animal Minds National Geographic, anthropomorphism, Construction in San Francisco, de Young museum, Homeless in San Francisco, J M W Turner San Francisco, Life of Brian, Lyrics Look on the Bright Side of Life, Rincon Hill Street Scape Master Plan, Shamrock Ranch Kennels, Shamrock Ranch Kennels Training
4 Comments
In February when I sent my invitation to announce my forthcoming Writer's News newsletter, I thought it'd be a week or two before I hit the send button. But as I worked with my web-team to get the look and feel "just right" and every word perfect, February turned into March, and March ran into April. Then life tossed me a curveball on April 15th. My brother called to tell me that our dad had been admitted to Methodist hospital in Peoria, IL. Dad's house cleaner had found him doubled over on the couch. His symptoms, a bowel obstruction caused by scar tissue from a 20-year-old surgery. Conveniently I was in in the Midwest instead of California and drove to Peoria the next day. When Dad went in to surgery four days later, it hadn't occurred to my brother, sister-in-law and I that he would be dead 18 days later. (more…)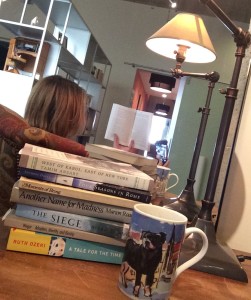 Once upon a time, I was a voracious reader. In my late 20s and early 30s, books were an appendage. I read while I gulped down my breakfast, at night alone at my table in my studio apartment, as soon as my favorite TV show had ended, every day during my mass-transit commute from Lincoln Park to the Chicago Loop.
One day, with my nose stuck into Steinbeck's East of Eden, I was yanked from my seat on the 156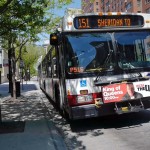 at the corner of LaSalle Street and North Avenue, pulled down the isle, and shoved down the stairs of the bus' rear exit. When I turned to see what a fellow passenger had rescued me from, flames were bursting out from under the seat I had occupied. (more…)
Posted in
Uncategorized
Tagged

A Tale for the Time Being, Ann Hood, Books Inc. Palo Alto, Breaking Bad, Christina Baker Kline, Comfort: A Journey Through Grief, CSI, Dani Shapiro, Devotion, East of Eden, Haven Retreats, Helen Dunmore, John Steinbeck, Justified, Laura Munson, Little Free Library, Major Crimes, Marion Roach Smith, NCIS, Orphan Train, Ruth Ozeki, Sirenland, Still Writing, Sukey Forbes, Talking to the Dead, The Angel in My Pocket, The Memoir Project, The Obituary Writer, This Is Not The Story You Think It Is
12 Comments