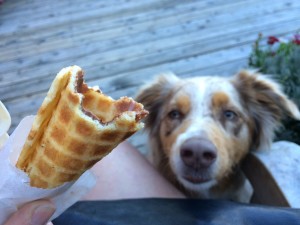 This morning I was scrolling through my Avy Tales reminiscing about my life. I like to do that from time to time, because I'm proud of my prolific-ness, something Mommy likes to brag about. She adores my spry sense of humor and thinks I would have made the perfect cover photo for the Animal Minds National Geographic issue in the 2007. Alas! I wasn't born yet. As I read my tales, I was dismayed to realize I hadn't blogged since December of last year. I blame this on a lot going on. (Note: we writers like to blame not writing on things like chasing ground squirrels into their holes or waiting for Mommy to share her ice cream cone.) Things going on: Mommy and Daddy moved me to a condo in San Francisco last December. And then Mommy's daddy got sick, and died in May. Mommy blogged about that, but what she hasn't blogged about is how our move to San Francisco has affected her and me.
The transition of moving from Menlo Park to the city last December hasn't bode so well for Mommy, and she's confided in me that she feels like a Debbie Downer because all she's been able to see are the bad things about San Francisco. I don't think Mommy is as adaptable as me.
Yes, I'm an adaptable Aussie. Sure I adored our spacious Menlo Park yard, chasing squirrels up trees, peeing on the "spot" of grass Mommy and Daddy left for me when they draught-i-fied our yard two years ago, digging up mole tunnels, things like that. But now I'm a city dog when we're not spending time in New Mexico. Mommy and Daddy sent me to Puppy Good Behavior Training Boot Camp a couple months back to help my transition. There I learned how to "down stay." I'm still holding out on the "come" command. I mastered the "heel" command with the help of the pronged necklace Daddy places around my neck. Heeling has made city walks more pleasant because I don't pull on my leash anymore. In general, I'm a calmer puppy. When I need exercise, off I go to Shamrock Ranch for daycare. Otherwise, I'm hanging out at the San Francisco condo Mommy and Daddy downsized to, a condo a Chicago-writer-pal of Mommy's refers to as a "swanky pad."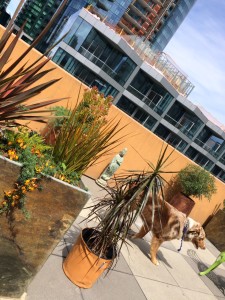 The swanky pad even has a terrace that looks out on a whole lot of high-rise construction sites.
The no-end-in-sight construction noise is one of the things gnawing on Mommy. While Daddy has delighted in the cranes swinging over our condo, Mommy is frustrated by it ALL. She's über sensitive to noise. Frustrated by torn up streets and traffic congestion.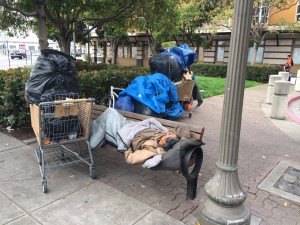 Dismayed by the homeless, and incensed by the trash and dust flying around, and shards of glass littering the streets causing immanent danger for my puppy paws. Being surrounded by the Bay Bridge on and off ramps wasn't something Mommy noticed the days she and Daddy looked at the condo they bought last October.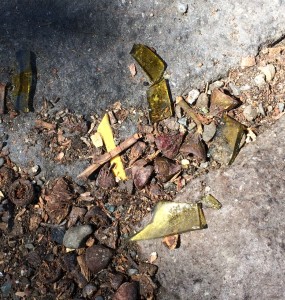 Perhaps Mommy should have done a little more in-depth CSI investigation into what the emerging neighborhood of Rincon Hill really meant—maybe five more years of construction.
Perhaps you're wondering why Mommy and Daddy decided to suddenly move from Menlo Park to San Francisco last year? Their decision was fueled by the desire to downsize and simplify life into a condo. A place they can shut and lock the door worry free. No house and yard to be concerned about. Palo Alto and Menlo Park didn't offer the kind of tony unit they wanted—high-rise within a walk-able city. When Mommy froze to the wall and had a panic attack on the 52nd floor of one of the Rincon Towers, Mommy and Daddy purchased a two-story unit on the top floors of a warehouse conversion building down the street.
I've learned a lot about decision making these past few months. Sometimes it's okay to make quick decisions, and other times not. Sometimes you think you are ready to make a decision, but you're not. I'm not sure what category Mommy and Daddy put their decision to move to the south of Market in, but I can see that it has affected us differently. Daddy's happy, I'm content, and Mommy's walking around in a fog. I think it's a bigger transition than Mommy bargained for. She's never been keen on San Fran because it's too cold in the summer. There are other reasons, but it's more interesting to ponder the idea of transitions. David Foster Wallace once said, "everything I've ever let go of has claw marks on it." Mommy has a lot of claw marks on life. For instance, she clings to her love for Chicago and it's gorgeous lake front, well-thought-out city planning and magnificent high rises, and her friends; the familiarity of living in Menlo Park for 15 years and its tree-lined streets, summer evenings, friends and our former big house and beautiful yard. Mommy has a hard time letting go of things. She identifies and falls in love with places—lamenting them at times like a lover who got away. If I had to play junior psychologist, I'd say Mommy's really having an identity crisis trying to figure out who she is without her parents, marrying daddy two years ago, adopting me, working hard to be a writer, and now this move to a place not high on her places-to-live list.
While I've been worrying about Mommy, I think I saw a shift in her the other day. When Daddy brought me home from Shamrock Ranch, I found Mommy standing in her newly reconfigured closet smiling. The initial installation after we bought our pad hadn't worked out well. "It's the small things, Avy," she said to me when she bent over to give me a pet-pet on my head. I looked around. The space smelled the same to me.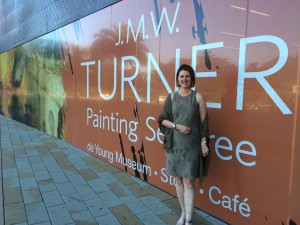 Then she and Daddy got dressed up in cocktail attire and went to the de Young museum for a special event—an opening party for the Turner exhibition. Mommy told me afterwards she was astounded by Turner's ability to capture light in his paintings. I could see it made her happy. So did the green-scape driving through Golden Gate Park. There's something about Mommy that not many people realize. Even though it has sounded and looked like she's drowning in the dark side of San Francisco, Mommy's been quietly scanning the city for things to bring light back into her life, that make her happy. I think this move was a hasty one for her, and not the right decision for her personality. But I get the sense that she knows it's probably the right decision for Daddy, her and me. And I know Mommy knows that if she keeps dwelling on the bad, she'll never see the good.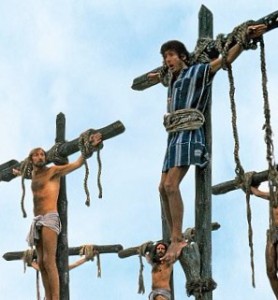 That night when Mommy put me in my crate, she sang a cute little song for me from Monty Python's movie, the Life of Brian. Something about my Avy Tale made her remember Brian dancing a jig on the cross. She giggled when she sang to me:
If life seems jolly rotten
There's something you've forgotten
And that's to laugh and smile and dance and sing
When you're feeling in the dumps
Don't be silly chumps
Just purse your lips and whistle
—that's the thing.
And… always look on the bright side of life.