Yesterday at lunch after cutting up an apple, Mommy let out a yelp.
"What," Daddy asked concerned.
"I don't know," whimpered Mommy. "There's a pain shooting down my thumb. I can't move it. It feels like hundreds of needles pricking me."
Ten Advils later, Daddy and I drove Mommy to Urgent Care in Taos this morning. Within an hour Mommy and Daddy, impressed by the professionalism of the Taos Urgent Care center, got into the car. Mommy holding her hand up as if waving,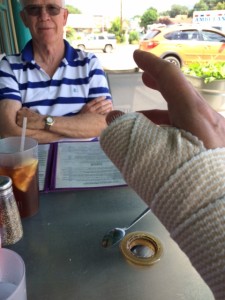 and with a referral to Dr. Chun, a hand specialist in Santa Fe.
Prognosis: Seems the nurse practitioner (NP) exclaimed, "I'm concerned," when she came back into the room Mommy and Daddy were waiting in after reviewing the X-rays. On the referral she wrote sprain, but in front of the computer screen she pointed out to Mommy and Daddy what looked like a floating bone next to the joint and collateral ligaments. And NP told them a funny story about how in olden times people got a similar injury from snapping the heads of rabbits with their thumbs. I'd love to do that to the bunnies in the pasture here at Thistlewood Ranch where we live near Angel Fire, but I don't have opposing thumbs.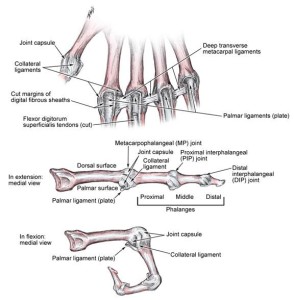 Mommy reported that NP said, "It's called Game Keepers Thumb. And you can't see it (Incase you don't know, X-rays don't show ligaments), but I think maybe the ligament pulled a bit of bone away. Maybe a cause for alarm, perhaps surgery, sometimes people never get their strength back with this kind of injury. What do you do for a profession," she asked Mommy?"
"Writer," Mommy told the NP. "Ohhhh," NP said. Even with this bleak prognosis, I could tell Mommy thought the NP was competent, which is something for Mommy. She's picky about practitioners. Then Mommy said the NP sighed deeply when NP asked if Mommy writes longhand. I know Mommy's flummoxed cuz she saw famous author, Natalie Goldberg at a SOMOs literary event at The Harwood a week ago. Natalie wrote Writing Down the Bones, a book about writing at least three pages long hand daily as writing calisthenics. Mommy started doing that again after she saw Natalie, along with meditating after she wrote. Mommy's been crabby of late, and I'd noticed a shift in her, how her renewed writing practice (she used to do this way back when before I was born.) was bringing back a twinkle to her eyes.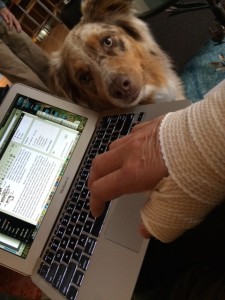 I'm sure Mommy is wondering how a bum thumb fits into her already delayed by life circumstances (Mommy's Daddy's untimely death in May, and the great purge of his house that followed.) writing plan? Mommy's writing goal for the year was to rewrite the draft of her memoir, but that is laying in a heap on the bench in her office. I feel bad for Mommy, although Mommy always finds a way to rise to the occasion. Case in point: I 'm dictating this Avy Tale to her, slowly I might add, while she hunts and pecks out the letters on her key board. I must admit while I'm sad for Mommy, I'm glad for me. That splint sure feels good when Mommy rubs it up and down my fur-coated backside. Arf,