This year, 2016, is the year I have committed to write. To goad myself into it, I signed up for best-selling author, Ellen Sussman's Novel/Memoir in a Year class. I've studied writing with Ellen for years—since 2008 when I first met her at Kepler's in Menlo Park, California. After her reading for the publication of Bad Girls—26 Writers Misbehave, she mentioned to the audience at Kepler's that she taught classes in her living room at her then-home in Los Altos. Ellen inspires me. A passionate and gifted teacher of writing, she has spunk, and a dry sense of humor I attribute to Trenton, New Jersey where she grew up. As she signed my copy of Bad Girls, I begged myself into her ten-week novel critique class, even though I was writing a memoir.
Over the years, I've taken many of Ellen's classes—The Best American Short Stories, and The Best American Essay series, day-long master classes, and classes with her at Stanford. And I'm a graduate of Ellen's 2012 Novel in a Year class in which I completed the first draft of "my memoir."
Part of the deal of Ellen's Novel in a Year class is that she reads each students "shitty first draft", and writes up an extensive six-page review that provides feedback for how to make the story better. Her feedback is followed up with an hour-long face-to-face session to review her notes and to ask burning questions.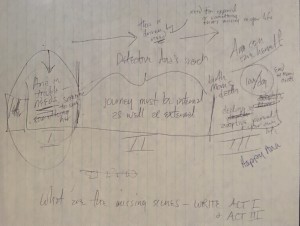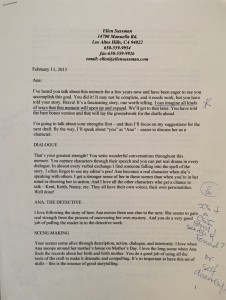 The feedback I received from Ellen thrilled me. During my follow-up hour, Ellen wrote out a list of editing best practices, and drew me a timeline for a possible arc for my story. I remember leaving her that day enthusiastic to rewrite my draft, and amazed that her feedback was 1000 times better than anything I'd received in the MFA program I was enrolled in, and dropped shortly thereafter. I was excited to get started. But for reasons I cannot remember, the draft with Ellen's handwritten notes laid on my desk collecting dust, then got moved to a shelf, into a drawer, and now sits on the bottom shelf of my book shelf in my office at the Mechanics Institute in downtown San Francisco. Why? Because when I got home and started thinking about the pages I had written, they felt contrived and lifeless. Nowhere could I find my quirky sense of humor that colors my blog writing. My writing didn't feel like me and that concerns me.
One day over coffee last June, a girlfriend asked me how my memoir was progressing. She knew that I had sent my manuscript to author, Marion Roach Smith in February 2015, and received more encouraging notes that I'd intended to use with Ellen's to revise my first draft.
"It's not," I replied. I considered telling her I was overwhelmed from my dad's unexpected death on May 3rd. Closing his estate with my brother and sister-in-law was taking time. But instead, I confided in her." I don't think I want to finish it."
"What. You've spent so much time writing it." She was right. I'd been writing and workshopping chapters of my memoir since 2002.
"I'm sick of it," I said. When I repeated her dismay to my husband he bemoaned, "but I love that story." Who doesn't love my story? How many people do you know that are adopted, search for their birthmother, and meet her on the day she dies?
I've been telling my story in some shape or form since I launched my search for my birthmother in 1996. That's how I talked my memoir to death.
One of the things I've noticed with the best-selling authors I have studied with, is they never really tell their students (spouses or friends) what they are writing about. They might allude to it. It's a story set in Paris, or Bali, or about a marriage. But they leave curious readers wondering.
In October last year, my dad's estate closing, my life felt ironed out like fresh starched sheets. There was nothing but to pick up my memoir again. Monday, October 11th was my target day to march into my office at the Mechanics Institute and get to my writing. So what if I'd talked my memoir to death. I. Was. Ready.
But, on October 7th, I slipped off our deck at our house in New Mexico, and broke my leg. Badly. Dumbfounded, and laid up with 15 screws and a plate in my left leg, and an anesthesia haze that lasted for two months, I decided to contemplate my life. Admitting I'd talked my memoir to death scared me. How could I call myself a writer if I wasn't writing that story? As my mind spiraled down the rabbit hole, I asked myself what made me think I was a writer anyway. Just because I was published in a couple anthologies, have a website, and three blogs? Was it time to investigate other careers? Find a real job? From my couch, I began researching curatorial practice (I worked in an art gallery in high school and studied art history in college) and crime scene investigation (Lord knows I spend enough time watching crime shows on TV. Might as well get paid for it.).
Thank God I'd signed up for Laura Munson's (New York Time best-selling author of This Is Not The Story You Think It Is) Haven one-day west-coast workshop months before I broke my leg. And a Gal Pal Visioning Session with friend, Kimberly Wiefling the day after Thanksgiving.
Unbeknownst to Laura, whose five-day Haven retreat I attended in 2014 in Whitefish, Montana, I was sitting on my duff the week of her west-coast workshop thinking of excuses to cancel. Not a writer, I told myself, there was no sense in going to a writing workshop. And I had my broken leg as an excuse. The house where the workshop was being held is perched at the top of a Marin Mountain. Still on crutches, I worried about uneven sidewalks and stairs. But Laura has a big heart, and lovingly assured me I would be taken care of if I came. So, I went, and I wrote really crappy stuff from Laura's writing prompts. But magical things happen at Haven retreats. And the magic I discovered, was a percolating desire to still believe that I am a writer?
Then I attended the visioning workshop at Kimberly's house the day after Thanksgiving. During the afternoon, we paired up to brainstorm what we wanted to do with our careers and/or our lives. As I stood making notes on flip chart paper, I realized I wasn't investigating other career options, but instead was scribbling  titles for books. Later a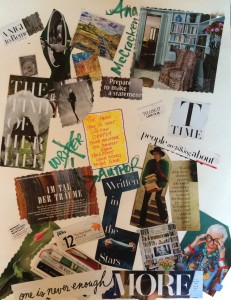 s I clipped and taped pictures from magazines to my poster board, my life as a published author unfolded.
Now the task at hand was to find a way back into writing. The obvious and easiest way was for me to send out my eNewsletter. Goal and deadline driven, I reached out to Harriet Chessman and asked her to submit a piece of writing to my Authorly Advice blog. A recovering Catholic, I'm well versed in shaming myself into writing. What would Harriet think if her piece was never sent out as promised?
After I broke my leg, I found myself taking notes about being an invalid, and wondered if something might become of them? I had an inkling of an idea for a new memoir. But what to do about it? On December 1st an email from Ellen Sussman landed in my email inbox. Subject line: Here's to a Creative New Year.
Without reading it, my fingers flew across my keyboard: "Ellen. Is your Your Novel in a Year class full? I've ditched my memoir. Am writing a new one. May I come back?" Ellen will only review a book manuscript once.
On the day of our first Novel/Memoir in a Year class at Ellen's new home in Sebastopol, I had one burning question for her. "I've noticed when you tell your classes that you are writing, you never tell us what the story is about. Why is that?" Of course I knew the answer, but I needed to hear it from a seasoned author.
"Because," Ellen said. "Talking about your book diffuses and disperses the energy of your work. I keep my story in a bubble, and I protect it from peoples comments like, 'I've read a book like that.' Commentary zaps your project. Protect your story bubble."
Sitting in Ellen's class on January 9th and 10th, I felt a little like a Seinfeld episode—the show about nothing. I have an inkling of an idea I'm going to write about in the coming year. But that's it. Sometimes all you need to write a book of fiction or a memoir is the germ of an idea. For now, I've titled my year of writing with Ellen, The Year I Spent Writing the Book I Didn't Know I Was Writing. Signing up for a year-long class is terrifying when you have no preconceived ideas. But on the other hand, not knowing is exhilarating. And this time when someone asks me what I'm writing about, I will not burst my story bubble by talking about it.
Even Ellen won't know what I've written until she receives my first draft manuscript on January 9, 2017.