Tag Archives:
ragbrai
RAGBRA

I

 COUNTDOWN: 46 days, 11 hours, 32 minutes, and 14 seconds…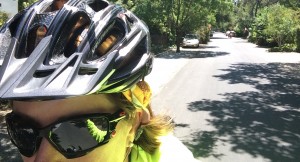 Yesterday riding my road bike on the Alpine/Portola Valley loop and trailing behind Ed, I sifted through my thoughts to find good ones. Positive, inspiring thoughts that would keep me company as I labored against a headwind, and a cross wind that almost knocked me over. Crappy thoughts don't help with perseverance. (more…)
Okay! I couldn't help myself. I had to take a distressed biking selfie.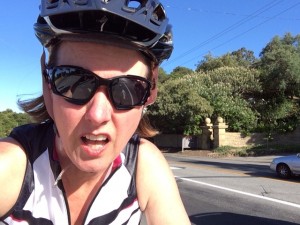 Dangerous while riding, yes! But the headwind on Foothill was dreadful and I wanted proof that I was riding in it. As I peddled at a mere 5.5 mph, I imaged the gale was so intense that if I crossed it, I'd be knocked over into oncoming traffic. No positive thinking for me.