Monthly Archives:
May 2014
When I was ten, my family moved from Los Angeles to Stuttgart, Germany. To stay connected to my friends, I started writing. The only one who wrote back consistently for over 20 years, was my best friend and next-door neighbor, Lisa. Now when we see each other she introduces me as her pen pal. Sadly, my mother threw Lisa's letters away, but Lisa saved mine. Several years ago, she lent me the large box that contains them to read. On blue sheets of airmail paper, I shared adolescent perspectives about places we traveled to in Europe. Then when I was 13, my parents moved our family to Peoria, Illinois. Suddenly my missives turned into angry and confused teenaged angst, (more…)
Okay! I couldn't help myself. I had to take a distressed biking selfie.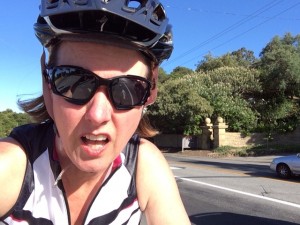 Dangerous while riding, yes! But the headwind on Foothill was dreadful and I wanted proof that I was riding in it. As I peddled at a mere 5.5 mph, I imaged the gale was so intense that if I crossed it, I'd be knocked over into oncoming traffic. No positive thinking for me.