A WRITERS' TOUR OF THE SOUTH
Trip Highlights #2
A lot of Ed's and my trip after we deposited the grandkid at Huntsville Space Camp was unplanned. Our one known destination was the battlefields at Vicksburg. As we lounged in our hotel room in Birmingham last week, plotting our route, I Googled "authors of Mississippi". There are many. But two, Eudora Welty and William Faulkner were in the regions we intended to drive.
EUDORA WELTY
(b 1909 -d 2001)
Born and died in Jackson, Mississippi
Sadly the Eudora Welty House and Garden Museum was closed on Monday when we drove through Jackson, Mississippi. But we stopped anyway, and I posed on the front steps of Welty's house.
Eudora Welty's name, to me, seems to pop up everywhere. Yet, I'm sure I've not read her stories and books? A short story writer and novelist, Welty won the Pulitzer Prize for Fiction for her novel, The Optimist's Daughter (1972).
Born in Jackson, Welty studied at Mississippi State University for Women, then transferred to the University of Wisconsin to further study English. Following graduation, she studied at Columbia where her father suggested she study advertising. Graduating in the depths of the Great Depression, no jobs in advertising were to be had in NYC. Welty returned to Jackson. (More can be found on Wikipedia.)
It was disappointing the Welty Museum was closed. Perhaps reading her memoir, One Writer's Beginnings (1983), I might learn more about the influences in her life. I am fascinated by parents, fathers in particular, of that era (thinking of Willa Cather) who encouraged female higher education. I remark to Ed frequently that there are windows of time where women were schooled and encouraged to study subjects other than nursing and teaching. (A common complaint of mothers of my generation.) I've gotta list growing of these intriguing women.
WILLIAM FAULKNER
(b 1897 – d 1962)
Born in New Albany, Mississippi
Died in Oxford, Mississippi
Well, I hate to admit it. Faulkner would be abhorred. I'm pretty sure I've confused him for years with William Styron, who wrote Sophie's Choice. Um… Both Williams. But I'm pretty sure I read The Sound and the Fury in high School. What a nincompoop I am. Especially when William Faulkner is internationally acclaimed as one of the greatest writers in the twentieth century.
Why admit it? 'Cuz that's what I do. And I'm glad to have been able to re-educate myself on our road-tour of the south.
From what I'm reading in my thin and compact William Faulkner biography by M. Thomas Inge, Faulkner was a bit of a pill, undaunted, and sly.
Undaunted and Sly: When Faulkner was rejected from the aviation branch of the United States Army Signal Corps, he put the "u" back in his name, affected a British accent, created a fictional persona of British clergyman for himself, and enlisted in Canada. He wanted to experience WWI combat like Hemingway, Fitzgerald, and E. E. Cummings. During training, Faulkner is purported to have crashed two planes. War ended, he didn't see combat. He returned home to Jackson and strutted around town with his swagger stick, resplendent in his officers uniform, earning himself the nickname of "Count."
A Pill: I'm kinda gathering he had a haughty attitude as a slight and short-statured man. He left Old Miss (University of Mississippi) after a semester because he was disinterested. Went to NYC to work at Lord & Taylor Bookstore while he sought publication (He had a friend mentoring and promoting him), returned to Oxford and took employ at the Old Miss post office. He resigned after three years, but not before being scolded for neglecting to timely stamp and send mail, and the delay of sending magazine subscribers their magazines until he had read them.
Faulkner's novels were made into movies, and he was prolific. And, in 1950 Faulkner won the Nobel Peace Prize for Literature.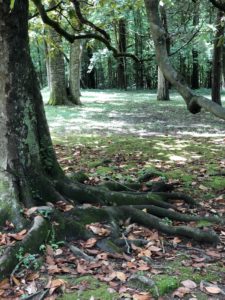 Visiting his home at Rowan Oak was a treat. Not only to see where he wrote, but how modestly he and his family lived, and to experience the serenity of his property. In Faulkner's writing study in the back of his house (an addition which he built), Ed and I marveled at the timeline/plot points he penciled upon his walls. He learned to do this in Hollywood during the writing and making of his novels into movies.
One last comment. Something I've noticed about authors such as Cather, Welty, Faulkner. They all had mentors. Some (as in the collective some) were their life-long editors, others publishers, other their champions. When I get my book(s) published, I  pass this tradition forward.
Photo credits: photograph of Eudora Welty, first Published April 21, 1962; photograph of William Faulkner, © Library of Congress.