People ask me, "why Iowa," when they learn that Ed, Avy and I left San Francisco earlier this year. Their faces scrunch and I smile. Why not? People are friendly here. Friends offer to pick up your paper when your delivery man can't get with the on-vacation program. Neighborhood kids play together calling out to one another gleefully on the streets. Neighbors offer to mow your lawn and shovel your snow. There are four seasons. Trails to ride bikes. Woods to hike. Vast roads through cornfields to drive. I can wax poetic. 

But more than all those things I love and appreciate about Iowa, I can drive from Ames where we live part time to Peoria to see family and friends, to Chicago to hang with more friends, or take a longer drive to New Mexico where we also live.
So, if you are still reading, you might understand why five hours before one of my favorite authors spoke at Mager & Quinn bookstore in Minneapolis, I got in the car and hightailed it up there to Dani Shapiro read from and discuss her new book, Hourglass.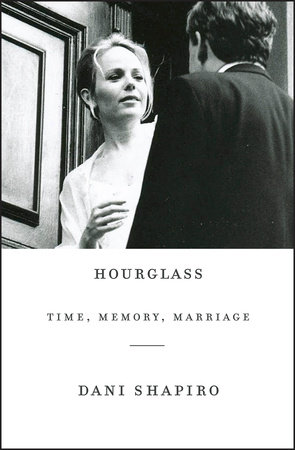 I have had the privilege to study with Dani on many occasions. I have read her memoirs Slow Motion and Devotion two times each. I'm well into a second reading of Hourglass. Her writing informs and inspires mine. I have learned small things to keep readers in my story instead of sending them out to think about something else.
For example: "Readers don't care about the Nespresso machine and Indria capsule you use to make your cappuccino," Dani said during a workshop weekend. I watched her strike through a line of my copy with her red pen and scribble a comment. "Instead, say something like, 'I made a cappuccino.'"
Dani's books are a masters program in memoir writing for me. Pages are dog-eared. Margins are full of notes. Her writing demonstrates insight.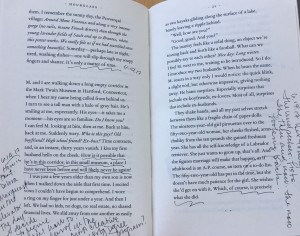 From Hourglass, page 10: …(D. finally ended her search for the perfect watch to go with her beautiful new wedding band.) I want to suggest to her that life is long. That this is the beginning. And that it may be true, at least in poetic terms, that beginnings are life seeds that contain within them everything that will ever happen.
She teaches the reader about writing:
..But when the self—not a fictional character—is the landscape of the story, we can't afford to be blind to our own themes and the strands weaving through them. And so we must make a map, even as the ground shifts beneath us. This is, of course, not only a literary problem. (Hourglass, page 34)
And to write Hourglass, Dani told the audience at Mager & Quinn, she viewed her life in metaphors. The woodpecker pecking away on their house was the metaphor of erosion in life, a marriage.
Writing memoir or personal essays, I have learned, is about taping into the universalness of life. Your writing must connect with the reader. You want your reader to arrive at that ah ha moment when you do. You must have insight. On some level, you as the author must have a shift/change in perspective. You want your reader to think, "Wow, I can see myself in her story." Or think, "When have I been that honest with myself?"
A wow of honesty from Hourglass, page 22: …I walked down the aisle in two big white gowns. I said the vows, wore the ring, sipped the wine. I wanted to be married. Being married was the point. Deep down, in a place no less real for being concealed, I carried the knowledge that I could always get out of it. (Hourglass, page 22)
Dani is a quiet, centered and a thoughtful woman. An author with a voice I can listen to for hours on end. "Seems a long way to drive to see Dani," a friend said to me as I spoke to her speeding up the I-35 in route to Dani's book-signing event. It is never a long way to go to see Dani. I've traveled to Positano, Italy and Connecticut to study with her.
A writer of fiction and memoir, I hope you'll sit down and read one, or all of her books.